M1 (T20E2) Garand for g3sg1 [gfx+sfx]
13 comments

M1 (T20E2) Garand for g3sg1 [gfx+sfx]
06.09.11 11:54:38 pm

9 like it!
217 kb, 180 Downloads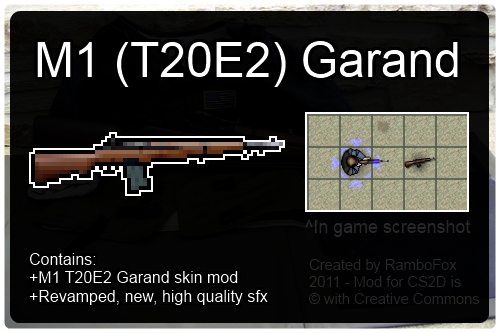 This replaces the gs3g1
One day I realized that it has been a while since my last submission, and that I also haven't done a weapon mod for an M1 Garand yet, so here I am now, with a mod that took me the greater part of 2 days (split in half for nap time of course) over the course of 4 and a half something hours.
This M1 Garand however is the magazine-fed version of the rifle, it's classification is of a semi automatic firing "T20E2 Garand", which eats BAR magazines instead of the well-known "en bloc" clips that give off that resounding and well-known "ping" noise on reloading.
I chose this mod to replace the g3sg1 for the reason that the BAR magazines hold 20 rounds, and the g3sg1 in CS2D does that same.
Fires pretty close to per trigger squeeze too.
I hope you like this just as much or more than I do

You may distribute and use this as needed, free of charge, providing you do not:
Claim this work as your own
Sell this work
Reupload this work as is
This pack is not to be reuploaded in part or in whole within other projects. Edits of my work is also prohibited. Failing to head these warnings will earn you a report, and a possible ban.
>>>Created by RamboFox (
- E-Mail address (visible to registered users only) -
)
As a final note, if your vote is based on size of the weapon, I will disregard your opinions. I have decided to keep skinning CS2D with skins that are similar in size to the default CS2D weapon skin resources.
-Possibly even get a mod to delete your review.
I hope you enjoy my work!

TO INSTALL THE MOD:
Simply open the *.zip file, and then extract the "gfx" and "sfx" folders from within the zip file.
CounterStrike 2D M1 (T20E2) Garand for g3sg1 [gfx+sfx] by RamboFox (
- E-Mail address (visible to registered users only) -
) is licensed under a Creative Commons Attribution-NonCommercial-ShareAlike 3.0 Unported License.

edited 2×, last 07.06.12 01:24:00 pm

This file has been reviewed and
approved
by
CY
(04.12.15 09:12:00 am)
Comments
13 comments


1


Log in!
You need to log in to be able to write comments!
Log in

I like it!

tom282f3
User
Offline

The T20E2:

Always the best from expert!
10.09.11 01:21:51 pm

I like it!

CY
Reviewer
Offline

Lovely rifle of course, everything is perfect and I shall use this until I've found another skin that is even beautiful than this.

I like it!

Zins
User
Offline

another awesome job by u ramofox this is so good

I like it!

maxcena
User
Offline

I just checked Wikipedia and it said this:
"T20E2 magazines will work in BAR, but not the reverse"
Apparently only the original T20 can use BAR magazines.
Good job nevertheless. Couldn't expect any less from you

Woops! How did that fall through the crack? Well, fixed now. Thanks Hobo Man for the headsup


hobo man445
User
Offline

UM in the gfx folder, why is the death image for the gun named sg? while the whole pack is for gs?

I like it!

Lubo
User
Offline

i like it and its hard worrk so you got 5/5
good job!

I like it!

glebec
User
Offline

Don't like for me,but it is big and hard work.

I like it!

J4x
User
Offline

What about a cs2d HD pack?

Some day, eventually, but from what era and what game/movie/something else, I don't know

I like it!

J4x
User
Offline

Awesome! will you make a weapon pack?

I like it!

secritek
User
Offline

mod -.- oh yeah, this is awsom SKIN


I like it!

PyKemis
User
Offline

It looks really nice I might use this



1