add a temp state banned
6 replies


1



add a temp state banned
10.06.17 06:43:29 pm

Scott
BANNED
Offline

Hi,
I was thinking of something, why not add the status *TEMP BANNED* for when they are temporarily banned, maybe it's an idiotic idea, but I just wanted to share what I thought.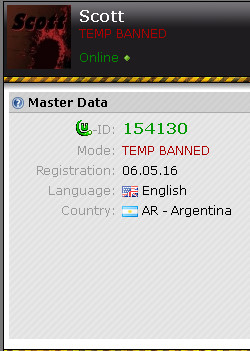 sorry I was wrong about the section.
Admin/mod comment:
please make sure to use the right language section. moved. removed useless spoiler. /DC

DC
Admin
Offline

This would hide the actual user mode (user, super user, game banned, moderator, ...) of that user while the user is temp banned.
Temp banned is not a user mode on its own. It's just a temporary limitation. Therefore it's wrong to display it as mode.
Also it would make several things more complicated internally.
edited 1×, last 10.06.17 06:51:53 pm

Mora_rus
User
Offline

Looks like you very want this status, you can tell your thoughts there:


Ideas For UnrealSoftware Site
anyway there is already notification below:
This is not as much idiotic, as bad. Bcs this is STATUS. For example of this sparty, he's reviewer, and what we would to see if he'll be temp banned? "Temp Banned reviewer", gg?
/nah DC was faster

I will finally join the army at 5.07.18 and back after year. bb

Scott
BANNED
Offline

@

DC
: yes, I understand.

Ahmad
User
Offline

it might be useful to add a red ! next to a user's mode to indicate that he\she is temp-banned, specially for +2 weeks bans

Avo
User
Offline

Well, when hover box appears when keeping a mouse cursor over somebody's nickname, it could show information if this user is temp-banned and for how long.
I suck at blogging, don't I?
|

DC
approved


Super extra mod for CS2D

(64)
, yeah!

Yates
Reviewer
Offline

Why would you want to know if someone is temporarily banned while reading posts anyway?

The problem with users is they feel like they need more information, when this actually destroys UI experience.

The idea of using icons for things that once have been explained are understandable is terrible for new users to grasp. It's confusing.


1