moar weird pals!
6 replies


1



moar weird pals!
06.10.15 09:21:57 pm

Mami Tomoe
User
Offline

It's hard being the best girl in the whole entire world

Seekay
Reviewer
Offline

I don't think DC will make comics again anytime soon.

In loving memory of Mr. Ast.
He never had to hide his morning wood.
Average Carnage Contest enjoyer

DC
Admin
Offline

Weird Pals was a project I wanted to try out. My aim was to deliver a daily comic but unfortunately I failed to keep that up for several reasons:

It requires a lot of motivation, discipline and time to do something daily or to prepare enough material to provide something daily

It didn't get much attention / enough attention to keep me motivated

Lack of good ideas
Also I mixed a story with random cartoons as you can see. The "story" kinda worked but most of the daily cartoons I made there are pretty bad unfortunately. I guess I have to admit that I'm not very good at that.
At the moment I'm not really motivated to continue this. Also I now have significantly less time than I had 2009 and I prefer to focus on other things. I didn't forget the project/domain though. I might do something new with it later.

1uP
User
Offline

I would like to see some more new sucesfull comics in here, nice job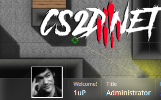 GeoB99
Moderator
Offline

I can confirm, some of weird pals aren't pretty much well made. I like mostly Mr.Ast comic and few of Weird Pals.

0TT0
User
Offline


I Enjoy It
26.10.15 01:37:14 pm

DaisukeOno
User
Offline

Not really funny, but i still enjoy weird pals anyway ._.
I have a potato internet


1