CS2D
Choose your Side!
It's your choice: Be a counter-terrorist, a member of a special task force, a fighter against terrorism or be a bad guy who takes hostages and plants bombs!
CS2D is a two-dimensional conversion of the popular game Counter-Strike by Valve®. You control your character from a top-down aerial perspective. An optional fog of war prevents that you are able to see through walls and thereby encourages tactical gameplay.
However CS2D has to offer much more than the well known scenarios from the original Counter-Strike! There are loads of new maps, weapons and game modes! Capture the Flag, Domination, Deathmatch, Team Deathmatch, Construction or even a Zombie mode!
Moreover there is a very easy to use map editor and the possibility to modify the game with Lua scripts. Buyscripts are possible as well.
The right game for everyone who likes Counter-Strike, tactical gaming or simply fast-paced multiplayer action!
Features
Online gaming (Internet & LAN)
Offline gaming with and versus scriptable bots
All weapons from Counter-Strike (1.6)
Different missions like hostage rescue or bomb planting
Optional top-down 3D mode
Dynamic light effects
Fog of war for tactical gaming
Console & scripting
Server and gameplay modifiable with Lua scripts
Easy to use built-in map editor
New map types like capture the flag and domination
New game modes like deathmatch, team deathmatch, construction and zombies!
Many additional weapons like RPG-Launcher, laser, molotov cocktail, ... and many more!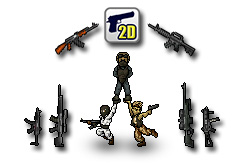 Version
Options
Successes
more than 1 million downloads
Updates even after over 10 years
Rank 1 on Steam Greenlight with over 12.6k Yes-votes (June 2017)