Carnage Contest
Get the bloody contest started!
Carnage Contest is a 2D turn based multiplayer shooter with fully destructible terrain.
You can play online with and against your friends on randomly generated maps. It's also possible to draw your own maps. You can simply import bmp and png images as maps or use the in-game editor.
Moreover there is a huge arsenal of weapons. All scripted with Lua. Experienced players can easily modify existing weapons or create completely new ones! Weaponsets allow you to quickly define which weapons will be available in the game
So what are you waiting for? Time to kick your enemy's ass!
Features
fully destructible 2D pixel worlds
a huge arsenal of crazy weapons
simply load bmp and png images as map
randomly generated maps with different landscapes
script your own weapons with Lua script
play with up to 8 players online
easily find and join games with U.S.G.N. serverlist
much blood + politically/religiously incorrect!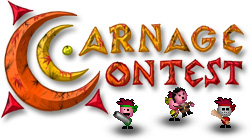 Version
Options