Cells, Atoms and Globe Earth Theory...
10 replies


1



Cells, Atoms and Globe Earth Theory...
19.08.22 10:33:48 pm

khaled1968
User
Offline

Hi,
Without any Introductions... I was on some arabic telegram groups which belongs to some ISIS supporters, and we had a little talk about atheism, and they told me that most of theories that atheist people depend on are complete lie and bullshit.
When they said this I thought we are going to talk about evolution theory and stuff... But I was shocked when I saw them saying that cells and atoms doesn't exist, and the globe earth, space, gravity, and much more theories are all big lies to pave the way for atheism! They also said that most scientists who work on or study such fields are Jews. *They says that Freemasonry and Atheism are all religions of Jewish origin.
At the end they gave me some religious evidence (from Islam) and some rational evidence for these claims.
*We have talked on a lot different topics, but this is what we talked about in the "scientific" aspect.
However, as crazy as this seems to be, but those people are dead serious and they have different explain for maybe 90% of scientific facts today.

Ik this has nothing to do with cs2d or unrealsoftware games stuff, but the website is inactive recently and this is Off-Topic section, so... Lets see what everyone's thought about this

edited 1×, last 20.08.22 04:20:21 am

DC
Admin
Offline

Quote:
They also said that most scientists who work on or study such fields are Jews. *They says that Freemasonry and Atheism are all religions of Jewish origin!
This is called a conspiracy theory. One with the goal to make you think that Jews are bad people who try to manipulate the world and who try to destroy religion. All of this is plain nonsense and there is zero legitimate proof for this claim.
Saying something like this is super dangerous in my opinion and I would have stopped talking to these people the moment they said that. Claiming things like that led to holocaust in Nazi Germany.
It's obvious however that they have to claim something like that. They want that people think that science is controlled by an untrustworthy mysterious and manipulative super power so people don't ask for scientific proof. Because that would be bad for them as there is no scientific proof for the things they say.
Unfortunately there are way too many insane conspiracy theories and way too many people who believe in this stuff. It's sad and it can be dangerous like in this case.
Stay smart. Read trustworthy stuff with trustworthy sources. Don't believe everything you read. If you know a victim of a conspiracy theory try to talk to that person and try to convince them of the truth with rational and scientific arguments. Remember that you wouldn't be able to read stuff on a website without science. So what do you like more now? Science or weird pseudo religious lies?

khaled1968
User
Offline

@

DC
: I am not that much in scientific matters but these theories, space, globe earth, gravity, evolution, cells, atoms, etc... are all new to people...
People didn't use to believe or even know such things 100 years ago, but now it did spread among them because of the media, right?

DC
Admin
Offline

Conspiracy theories? Yes, I guess most of these are spread via the internet. The internet makes it so much easier to spread information and unfortunately also misinformation.
It's pretty ironic in this case. They use science (no internet without science and physics) - which they deny - to spread their lies.


Cebra
User
Offline

I agree 100 % with

DC
!
It is really sad, that the "easy" conspiracy theories, which are not easy at all in the most cases, spread so well.
The good thing in science is, that nothing is 'fixed'. If you have the better argument, then every (good) scientist will change his/her point of view.
One important thing is "falsifiability". This means that every theory must be disprovable, and in most cases, this is not possible for conspiracy theories!
And as

DC
pointed out, everyone is using modern science in their daily life. GPS would not be possible without the general relativity, your smartphone or computer would not work without quantum mechanics. Without the concept of cells, bacteria and viruses, we would still suffer on a lot of diseases...
So conspiracy theories proof themself wrong as soon as you start to think about them.
I agress with you, that science is not easy to understand - even e.g. for me, who has a degree in physics.
But only because you do not understand it, it don't has to be wrong!
Please don't go down the rabbit hole of conspiracy theories, and the easiest way to prevent, is to stay curios!
edited 1×, last 20.08.22 12:53:43 pm
loading...

ohaz
User
Offline


khaled1968 has written:
@

DC
: I am not that much in scientific matters but these theories, space, globe earth, gravity, evolution, cells, atoms, etc... are all new to people...
People didn't use to believe or even know such things 100 years ago, but now it did spread among them because of the media, right?
Well, the existence of cells has been discovered in 1665. The existence of atoms has been predicted around 450BC and discovered in the early 1800s.
But on the other hand, conspiracy theories have existed for years too. The first conspiracy theories that got "big" were shortly before the year 1900. But there have been conspiracy theories before for hundreds of years, they just didn't expand as quickly because they didn't have media that stretched the whole world.
There are a few key differences between conspiracy theories and science:

Science starts being "true" when you can prove it. Conspiracy theories claim they are true until you disprove them

When there is new evidence, Scientists change their minds. Conspiracy theorists try to falsify the new evidence instead.

Science is searching for complicated solutions for complicated questions. Conspiracy Theories search for "easy" solutions for complicated problems (e.g. "It's all the fault of the Jews". That's a super "easy" solution, because you can just lay the blame for everything on one group of people)

Science depends on consensus of lots of papers, evidence, scientists. Conspiracy Theories depend on one source of truth most of the time.

Xirot
Idiot
Offline

Someone locks this topic please.

Pathetic as fuck.

NanuPlayer
User
Offline

who say something like this
i don't believe in evolution theory but not like this

also there is picture of earth from space its over
Bad Life

Mami Tomoe
User
Offline


Xirot has written:
Someone locks this topic please.

Pathetic as fuck.
Please elaborate as to why.
Currently, many users including myself are finding this thread of value.
If you do not like it, feel free to ignore it, as most people would.
If you find it to break a rule, contact a moderator.
If you find it to break a law, contact the admin.
Or, is there another reason?
If so, as I've asked above, please, elaborate.
It's hard being the best girl in the whole entire world

Raisun
User
Offline

Bro thinks he can command others to lock threads as he desires, funny. He probably doesn't like this topic because OP mentioned ISIS supporters (who are
probably
muslim and that makes him feel butthurt). But what would you expect from someone who named himself islam321 back in the days and vigorously defended ideas not belonging to a civilized world. This thread does not break any rules.
@

khaled1968
: Atheism has its roots in ancient Greece (BC periods), it's from times when people started to think differently and realized that certain aspects of their lives don't have to be entirely based on deities, nor was this reasoning enough for them to satisfy their curiosity and need for knowledge. Romans and other nations continued to expand the idea, up until to the point we see atheism as it is today. Unlike certain groups and ideologies, atheism can't be based on Jewish origins, as those follow deities, while atheism denies them.
Besides, science stands on simple yet proven ideas, and those are evidence and facts. Science also acknowledges new facts, ideas, and theories, and if proven correct, accepts them. That's something religion really doesn't do well and what makes science and science based ideologies great, they accept changes and for each claim someone makes, you have real, proven evidence and facts to back it up or deny it completely and/or achieving the truth.
Freemasonry on the other hand, as the term itself, was officially documented around 13rd or 14th century, and as such, the organization began to operate on its own, independently from the Catholic church established in Europe. The term "free mason" was basically just telling people that these masons and their masonries were not tied to church and worked independently. It is really an interesting group of people, and the people I met in person were following a set of rules and morals, that would definitely be beneficial among people today (Integrity, Friendship, Respect and Charity). Along with that, most of the folk root for people to educate and to become better version of themselves. They also usually accept people from different ideologies and religions. While there were Jewish people among them, the entire organization was not based on them. People hated Jewish people for various reasons, but mostly because of envy, they had riches and were good in acquiring those.
Funnily enough, Islamic world marked atheists as unbelievers and persecuted them, but when it came to reasoning and any real evidence, they (persecutors) couldn't really pinpoint anything, alas, it was just used as a crutch to define "heretics". Something you see quite often today too. Not to mention certain branches of Islamic religion are outright misogynistic, manipulatory, hateful and have certain imperialistic desires tied to them. To not completely shit on Islamic religion, most of the folk view charity and helping as honorable, however, not to the outsiders.
As with any -ism or any other ideology, it's all about how people view and present the set idea. We had two world wars "just" because someone saw things differently.
For conspiracy theories, it's same as with ideologies and religion, it all depends on people and how they perceive and accept/deny them. Truth be told though, society enjoys them more than ever, thanks to uneasy conditions worldwide and because of massive popularization thanks to media. A hundred or so years ago, it could still take days, if not weeks, to find any information on anything like this. Now, it can take minutes.

ModJuicer
Super User
Offline

~ One hundred years ago we figured out how all that stuff worked. Maybe in another hundred we'll figure out how to get conspiracy theorists to make a rational argument. I'm not gonna be too smug about it, though, considering I was into the perpetual motion/unlimited energy schemes in my gullible years. (when I finally changed my mind about that, thanks to my cousins (who were patient enough to actually deal with it) I became determined to be sure that what I hear or read is actually true before spreading it (a good habit, applicable even with regular stuff like rumors), which is a complete turnaround).
So, smart people can absolutely fall for stuff (I mean, I wasn't into the flat earth stuff, but one of my friends was, and a managed to change his mind about it) and it's apparently way more common than I had originally thought.
It reminds me of this XKCD web comic whenever someone mentions conspiracy theories nowadays: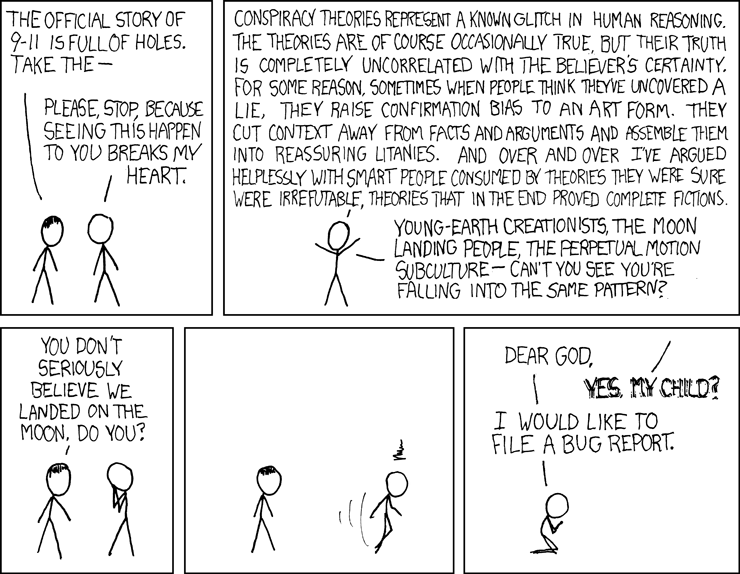 Have a good day, and keep your children away from flatlanders.
rucka rucka ali video about flatlanders - watch at your own risk:
https://www.youtube.com/watch?v=nH8uq-8jhyI
Capitalism + Entropy = Chaos. Also low wages. | Imagination is all about creating a new reality. |


New Economic System


1